NOW AVAILABLE
Long String Installations
Paul Panhuysen
A 3-LP album
Edition Telemark
Het Apollohuis invites you to the release party of the 3-LP album:
SATURDAY 2ND OF JUNE, 2018 AT 6 PM
ZKM Center for Art and Media, Karlsruhe | Lecture Hall
with an exhibition of photographs and a video of various long string installations
zkm.de/de/veranstaltung/2018/06/paul-panhuysen-long-string-installations
REGULAR EDITION OF 250
The album is presented in a triple gate-fold sleeve with printed inner sleeves containing liner notes by Rolf Sachsse and Stephan Wunderlich as well as various high-resolution b/w and full-page color photos.
Price: 50 euro
SPECIAL EDITION OF 50 IN A TOTE BAG
-including the 3-LP album,
-the book 'Long Strings 1982–2011', a catalogue with English text by Jade Kuyper, with colour & b/w photographs, published by Het Apollohuis in 2012,
- six A5-sized postcards
Price: 80 euro
edited by Edition Telemark | catalogue number 785.04 | www.edition-telemark.de
-----------------------------------------------------
AVAILABLE NOW
TWENTY-THREE CARILLON SUDOKUS
NUMBER MADE VISIBLE- NUMBER MADE AUDIBLE
VINYL LP EDITION
Carillon Sudokus is the sonic counterpart to OOG + OOR (Eye & Ear), the last work Paul Panhuysen (1934-2015) realized, a design made with his daughter Sappho for a contemporary installation in the lighted column of the Rietveld bus shelter next to the townhall of Eindhoven.
Both designs were created using sudoku puzzles whose structure was derived from the number sequences present in individual sudokus. These principles can also be applied to pitch and musical phrases.
Side A of this LP contains 11 pieces played the carillon on the roof of the Eindhoven town hall by carillonneur Rosemarie Seuntiëns.
Side B features 12 pieces played mechanically (by the carillon?)
The LP is published by edition-telemark Berlin, catalog no.628.07
Edition of 300 in full-color gatefold sleeve with printed inner sleeve
and can be ordered through www.edition-telemark.de
-----------------------------------------------------
GINGER STRINGS 2012 / 2017
INSTALLATION AT DORDTYART
SENSE OF SOUND
GROUP EXHIBITION
A reconstruction by Yvan Etienne, Brice Jeannin, Meindert de Vries
August 19th - October 15th 2017
Opening: August 19th at 14.00 hrs
opening hours: friday - sunday from 11.00-17.00 hrs
Maasstraat 11, Dordrecht
T: +31 (0)78 632 1200
www.dordtyart.nl
-----------------------------------------------------
A MAGIC SQUARE OF 5 TO LOOK AT
A MAGIC SQUARE TO LISTEN TO, 2003
SYNTHETIC NATURE 4, 2002
EXHIBITION MUSIQUE À VOIR, LAAC
Musique à voir: a group exhibition curated by Jean-Yves Bosseur,
at LAAC (Lieu d'Art et Action Contemporaine) Dunkerque, France.
April 29 - September 17, 2017
Opening: April 29, 2017
opening hours: tuesday-sunday from 10 - 12.15 hrs + 14 - 18 hrs
address: 302 Avenue des Bordées, Dunkerque France
www.musees-dunkerque.eu/nl
-----------------------------------------------------
DESIGN OF PUBLIC SPACES 1971-1977
PAUL PANHUYSEN
EXHIBITION PARK THEATRE
From February until July 15, 2017 Park Theater in Eindhoven shows models of environmental proposals developed between 1971-1977 for the Wilgenroosstraat and for prominent locations in Eindhoven.
opening hours: during and after theater (performances)
address: Theaterpad 1, 5615 EN Eindhoven
www.parktheater.nl
-----------------------------------------------------
MUSIK OHNE MUSIKER
MUSIC WITHOUT MUSICIANS
SECHS MECHANISCHE ORCHESTER SIX
MECHANICAL ORCHESTRAS
Harald Kubiczak (Circuit-Art Frankfurt) and Hélène Panhuysen (Het Apollohuis Eindhoven) are pleased to invite you to book & cd presentation on October 22, 2016 at 3 p.m. at Het Apollohuis: Special performance by Pierre Bastien
Tongelresestraat 81 · NL – 5613 DB Eindhoven
Music without Musicians Six mechanical Orchestras
Publisher Circuit-Art Frankfurt and Het Apollohuis Eindhoven
Curator: Paul Panhuysen
Artists: Pierre Bastien, Ad van Buuren,  Ulrich Eller,  Harald Kubiczak,  Frédéric Le Junter and  Trimpin
Authors: Leon van Noorden, Paul Panhuysen, Kitty Zijlmans and the artists Size 125 x 200 mm, 124 pages, 52 images, CD (6 Amsterdam De IJsbreker recordings) 58:40 ISBN 978–3–00–046493–5 ·
Price: 22.50 Euro on October 22nd, 30 Euro after October 22nd.
Copies can be ordered by Circuit-Art Frankfurt and Het Apollohuis Eindhoven:
www.circuit-art.org
www.paulpanhuysen.nl
-----------------------------------------------------
PAUL PANHUYSEN'S CITY
EXHIBITION 2 CASA VERTIGO TUE 5TH FLOOR
From September 1st, until October 21, Casa Vertigo TU/e shows 4 models of environmental proposals for prominent locations in Eindhoven: the Market, the Van Abbemuseum and the City Theatre and for the Nutsschool Norbertuslaan.
CASA Vertigo, Department Architecture Technical University Eindhoven
www.tue.nl/casavertigo
Open Monday - friday from 9.00 - 18.00
PAUL PANHUYSEN'S STREET
EXHIBITION VAN ABBEMUSEUM
3rd floor new building
From September 1st the 2 models developed for the Wilgenroosstraat in Eindhoven have been added to the exhibition Who owns The Street? with a discussion at the opening on Sept. 1st
-----------------------------------------------------
DE STRAAT VERSPEELD
EXHIBITION CASA VERTIGO TUe
Isn't the potential of the street played out, in the way it is used, dominated by car traffic? A typical question of the 70's. Already in 1971, before the first famous car free Sunday in 1973, The residents of the Wilgenroosstraat in Eindhoven organized a street party; the cars were excluded. Paul Panhuysen (1934-2015), one of the residents at that time, was motivated to imagine how this street could function better, on a daily basis and not for only one day a year.
Until May 31, Casa Vertigo TU/e shows the exhibition De straat verspeeld with models of design proposals for both streetplanning and urban planning for public spaces, drawings, texts and photos of 'Wilgenroosstraatfeesten' (streetparties) from 1972 and 1975 (©Pieter Boersma).
CASA Vertigo, Department Architecture Technical University Eindhoven
www.tue.nl/casavertigo
Open Monday - friday from 9.00 - 18.00
-----------------------------------------------------
1976
MACIUNAS ENSEMBLE
LP

The Maciunas Ensemble was founded in 1968 by Dutch musicians and sound artists Paul Panhuysen, Remko Scha and Jan van Riet. It has existed ever since, though having gone through a number of membership changes until today. The group's intention was to realize the piece "Music for Everyman" by Fluxus initiator George Maciunas which they interpreted as allowing boundless freedom in the sounds being produced. The group met at a regular basis, usually improvising on a number of instruments that were at hand. Every session was recorded. Before playing, they listened to the recording of the previous session and discussed it. No rehearsing or fine-tuning of pre-conceived material took place. To the view of Paul Panhuysen, their method of making music is closely linked with the oral tradition of folk music.
This LP edition features two pieces, both recorded on December 19, 1976, and never released before on any format. Here, the group comprised Paul Panhuysen, Remko Scha, Jan van Riet, Leon van Noorden and Hans Schuurman.
available through Edition Telemark Berlin (www.edition-telemark.de)
and Het Apollohuis Eindhoven
Edition of 250 copies, special edition of 50 copies
containing a hand-made letterpressed print by Sappho Panhuysen
-----------------------------------------------------
PAUL PANHUYSEN DIES, AGE 80
August 21, 1934 (Borgharen) – January 29, 2015 (Eindhoven)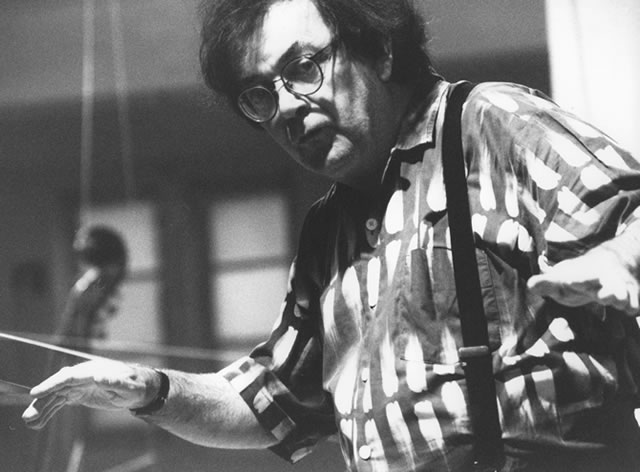 A system of rules always leaves room to move, to play, however rigid it may be. A system makes me look for open spaces between the clouds through which I can reach a different perspective, a different world.
-from the interview with René van Peer in: Interviews with Sound Artists, 1993
(Apollo Art About #3)
photo: © Peter B. Kaars
A small memorial to Paul on www.warrenburt.com
-----------------------------------------------------
FROM SEPTEMBER 1, 2014
NEW AT ARTONYOURSCREEN
PAUL PANHUYSEN – PATTERN PRIMER
'Pattern Primer', the fourth work in the context of ArtOnYourScreen, is a critical analysis if the relationship between calculation and coincidence, order and disorder in the form of reactive software. With this tool the user is able generate an almost endless number of images based on similar elements. Throughout his career as an artist Panhuysen has repeatedly returned to questions relating to the perceptual complexity of structural order; and parallels may be seen in his works of sound art as well.
Paul Panhuysen is one of the pioneers of sound art. He is also intensively occupied with generatively created music. In collaboration with his wife Hélène, he founded the artists' platform Het Apollohuis in Eindhoven, in 1980. The platform closed 2001, and the archive is currently housed and managed by the ZKM.
http://zkm.de/aoys/paul-panhuysen
http://zkm.de
-----------------------------------------------------
EYE + EAR 2014
INSTALLATION
PAUL PANHUYSEN, SAPPHO PANHUYSEN
June 1, 2014 – June 1, 2015
opening installation: Sunday June 1, 2014, 14:00 – 18:00 pm
Stadhuisplein 1, Eindhoven
Every year an artist, designer or architect is invited by the Foundation Bus Shelter Rietveld to present a statement or work during one year.
'EYE + EAR' is a work of Paul Panhuysen in collaboration with his daughter Sappho.
In this work image and sound are based on sudoku series of numbers.
The image in the column of the Rietveld shelter is a detail of one sudoku.
For the Carillon City Hall a score of 365 short compositions, based on 365 different sudokus, one for each day of the year, playing the bells every hour of the day.
www.studiovrijdag.nl
www.architecten-en-en.nl
thanks to:
MAD emergent art center René Paré, Richard van Roy (www.madlab.nl)
Rosemarie Seuntiëns, carilloneur
Koninklijke Eijsbouts Klokkengieterij (Royal Eijsbouts Bell-foundry)
RB Design, sudoku data
-----------------------------------------------------
THINKING (out of) THE BOX
EXHIBITION
April 18 – June 15, 2014
Marres, House for Contemporary Culture, Capucijnenstraat 98, Maastricht
Marres presents in a group exhibition a selection of Vedute, a collection of threedimensional objects, each measuring 44 x 32 x 7 cm in closed form.
In Solar Skimmer Octette (1999) is light, sound and movement part of the work.
www.marres.org
www.vedute.nl
-----------------------------------------------------
PENDULUM CHANGE RINGING
VINYL LP EDITION
Coming soon: first vinyl LP edition since1986 on Edition Telemark Berlin.
This LP contains a recording of the installation 'Pendulum Change Ringing', displayed at Pand Koloniale Waren in Hasselt (Belgium) in 2012. The installation consists of twelve engraved Turkish metal platters, each mounted onto a black plastic bin, and placed in a 20 meter long row. The rim of each platter is hit by a metal pendulum operated by a tiny electromotor.
"You might call Pendulum Change Ringing a typical Paul Panhuysen piece: it works according to a system, quite a simple one in fact, but its effect surpasses that apparent simplicity by far." (René van Peer)
www.edition-telemark.de
-----------------------------------------------------
NOW AVAILABLE
A NON TILED PICTURE 2014
In these two prints shapes and colours are based on Sudoku rules, making non repetitive patterns.
This pattern was made for the Deltamart exhibition, and for that occasion printed on tiles. Paul and Sappho Panhuysen have made the edition in close collaboration.
a limited edition print
edition: 10 copies, numbered and signed
paper size: 840 x 600 mm
image size: 540 x 540 mm
paper: Hahnemühle Photorag, 310 grams/m2 cotton
Info & order: helene@paulpanhuysen.nl and/or sappho@studiovrijdag.nl
-----------------------------------------------------
A TILED PICTURE 2013
October 19-27-2013
During the Dutch Design Week on the group exhibition DeltaMart from October 19 - 27 Paul and Sappho have shown their first collaboration 'A Tiled Picture'. All exhibiting works have been inspired by the Delta vase designed by Mart van Schijndel in1981.
www.deltamart.nl
-----------------------------------------------------
WAITING FOR SWIFTS
Het Apollohuis is waiting for the swifts. Since February 11 this year, Het Apollohuis offers new accomodation for about 12 families of swifts. They haven't found their new housing yet, but we will keep you posted.
http://www.stadsnatuur-projecten-arjan-ooms-eindhoven.nl
-----------------------------------------------------
PAUL PANHUYSEN
THE GAME AND THE RULES
EXHIBITION
March 23rd - April 20th 2013
LOCUS SOLUS, Pourbusstraat 14
2000 Antwerp Belgium
opening: saturday March 23, 5 - 7 p.m.
opening hours: friday and saturday 2 - 6 p.m.
www.citythoughts.org/locussolus
-----------------------------------------------------
NOW AVAILABLE
MACIUNAS ENSEMBLE
THE ARCHIVES PART 1, 1968-1980
Since its foundation in 1968 the musicians of the Maciunas Ensemble always recorded their music with taperecorder, listened afterwards to the results and selected the best parts.
Mark van de Voort together with Paul Panhuysen made a final selection from these early archival recordings of the first 12 years for this 11 CDbox, including a 24 page booklet on ApolloRecords.
ApolloRecords ACD091220-091230
price: € 50,- plus mailcosts
to order: helene@paulpanhuysen.nl
or phone (0031) 040 2440393
www.paulpanhuysen.nl
-----------------------------------------------------
GERRIT BENNER AWARD
On the occasion of the Gerrit Benner Award presented to Paul Panhuysen on June 29 at the new Fries Museum Leeuwarden, the exhibition with painted vases by Paul Panhuysen at Keramiek Museum, Princessehof In Leeuwarden, has been extended until October 29, 2012.
http://www.princessehof.nl/tentoonstellingen/actueel.html
info@princessehof.nl
-----------------------------------------------------
PENDULUM CHANGE RINGING
opening installation: June 2, 2012: 19.00
expo events on June 2, 8, 15, 22 and 29 : 19.00 - 0200
concert Paul Panhuysen/Yvan Etienne : June 22
Koloniale Waren, Koningin Astridlaan 81-85, Hasselt Belgium www.open-circuit.com
-----------------------------------------------------
Paul Panhuysen,
an artist's touch
exhibition
03.05 - 02.07.2012
opening hours: monday - saturday from 10 - 21.00 hrs
Academisch Genootschap
Parklaan 93 Eindhoven
www.academischgenootschap.nl
-----------------------------------------------------
Bells Ringing
a 3,5 minutes score playing the bells of the city carillon every hour
19-23.04. 2012
Carillon City Hall Eindhoven
Open Data/Mad Emergent Art Center Eindhoven
-----------------------------------------------------
NEW PUBLICATION:
PAUL PANHUYSEN
LONG STRINGS 1982 – 2011
A new publication on long string installations made by Paul Panhuysen
during the period 1982-2011. With an english essay by art historian
Jade Kuijper: 'Structurally Sound'. Fully illustrated with coloured and
black & white photos by Paul Panhuysen, Pieter Boersma a.o.
price: € 25,- + postage
info/order: helene@paulpanhuysen.nl
-----------------------------------------------------
NUMBER MADE VISIBLE –
NUMBER MADE AUDIBLE
PAUL PANHUYSEN
MUSEUM DE PONT TILBURG
opening: January 28, 2012, 15.00 hrs
exhibition: January 28 – March 18, 2012
opening hours: tuesday-sunday: 11.00 - 17.00
Wilhelminapark 1, 5041 EA Tilburg
www.depont.nl
-----------------------------------------------------
PP77 FESTIVAL
GINGER STRINGS
TAC EINDHOVEN
opening PP77 festival: January 29, 15.00 hrs
concert on Ginger Strings by Paul Panhuysen & Yvan Etienne
exhibition: January 28 – February 12, 2012
opening hours: friday-sunday: 13.00 - 17.00
TAC Vonderweg 1, 5611 BK Eindhoven
organisation: Axesjazzpower, Eindhoven
www.axesjazpower.nl, www.tac.nu
For more information and complete programme visit:
www.pp77.nl
-----------------------------------------------------
SNAREN IN BEELD
PHOTOGRAPHS
GALERIE PENNINGS
exhibition: January 28 – March 18, 2012
opening hours: thursday-friday: 13.00 - 18.00,
Saturday: 13.00 – 17.00 and by appointment
Geldropseweg 61b, first floor, 5611 SE Eindhoven
www.galeriepennings.nl
-----------------------------------------------------
SHAKER FURNITURE
EXHIBITION
PENNINGS INSIDE
exhibition: January 28 – March 18, 2012
opening hours: tuesday-saturday: 10.00 - 17.30
Geldropseweg 63, 5611 SE Eindhoven
www.penningsinside.nl
-----------------------------------------------------
VOLTAIC MEMORY SPACE 2011
KLEINER WASSERSPEICHER BERLIN
SOUND INSTALLATION
opening: June 30, 2011, 18.00 hrs
exhibition: July 1 – September 11, 2011
opening hours: wednesday-sunday: 14.00 -20.00
Diedenhofer Strasse, Prenzlauer Berg Berlin
organisation: Singuhr Hörgalerie
www.singuhr.de
-----------------------------------------------------
NEW PUBLICATION:
Sound Art @ Het Apollohuis
Excerpts of concert recordings
between 1980-1995
A new publication on ZKM milestones / WERGO Mainz, Germany
two compact discs with booklet, German and English text, 72 pages;
WER 2069 2
presentation: July 1,18.00 hrs at Gelbe Musik, Schaperstrasse 11, Berlin
ánd October 22, 2011- 6 p.m. with Julia Gerlach at ZKM Karlsruhe
A selection of previously unpublished recordings from the archive of Het Apollohuis, which is located since 2009 at ZKM Karlsruhe.
a production of ZKM/Mediathek and ZKM/Institut für Musik und Akustik.
ZKM Zentrum für Kunst und Medientechnologie Karlsruhe;
www.zkm.de/musik
info/order: www.wergo.de
-----------------------------------------------------
PERFORMANCE STEDELIJK MUSEUM AMSTERDAM
MECHANICAL GAGAKU ORCHESTRA
AND LONG STRINGS 2011
installation and performance
April 28, 2011 at Stedelijk Museum Amsterdam
'Hear it!' temporary stedelijk 2
http://non-fiction.nl
foto: © Pieter Boersma
-----------------------------------------------------
A MECHANICAL GAGAKU ORCHESTRA
SOUND ART 2010
Paul Panhuysen presents A Mechanical Gagaku Orchestra
in the exhibition SOUNDART 2010 at the Praetorium in Cologne / Germany
opening: wednesday October 27 at 19.00 o'clock
openinghours: tue - sun 10.00 - 17.00 and November 4: 10.00- 22.00
www.soundart-nrw.net/nrw/index.php
-----------------------------------------------------
Ésam Caen / Paul Panhuysen
lecture: April 29, 2010 / 18.30 h
17 cours Caffarelli, Caen / France
organisation: INTERSTICE / rencontre des inclassables #5
-----------------------------------------------------
Galerie Hypertopie
Paul Panhuysen / Bertram Berrenger
exhibition: April 30 - May 29, 2010
opening: April 29, 2010 / 18 h
place Letellier, Caen / France
organisation: INTERSTICE / rencontre des inclassables #5
-----------------------------------------------------
Église St. Nicolas
Paul Panhuysen
concert on long strings: April 29 / 21 h
with TILT (Yvan Etienne, Brice Jeannin) & Patrice Grente
organisation: INTERSTICE / rencontre des inclassables #5
Look for the program: www.station-mir.com
---------------------------------------
'École du chant et des chanteurs'
Paul Panhuysen
A birdhouse with canaries and electronics, a permanent installation
opening: May 8, 2010 / 18.30 h
and concert with long strings 'La ronde d'Alençon'
Parc des Promenades, Rue Balzac 61000 Alençon / France
organisation: Pygmalion Alençon France
-------------------------------------
NEW PUBLICATIONS:
TUNEY TUNES
Paul Panhuysen / Nico Parlevliet (+ dvd)
Introduction and interview by Ina Boiten
Dutch texts, 260 x 220 mm (soft cover),
60 pages (color and b/w),
price € 22 plus shipping
The dvd contains samples by Paul Panhuysen and Nico Parlevliet
of sound installations and musical instruments.
ISBN 90-71638-29-9
info/order: helene@paulpanhuysen.nl
---------------------------
KÄstrich – an independent forum for art.
With a report on independent art
A retrospective about ten year independent forum for art,
founded in 1990 in Mainz, Germany.
Authors: Harald Kubiczak, Peter Krawietz, Rolf Langebartels,
Phill Niblock, Paul Panhuysen, Roland Siegrist and Arthur Stidfole
Bilingual edition (German, English), 125 x 200 mm (soft cover)
208 pages, 350 images
Publisher: Harald Kubiczak
ISBN 978–3–00–027615–6
price: € 14 plus shipping
info/order: www.circuit-art.com / helene@paulpanhuysen.nl
----------------------------------------------
Le jeu et les rÈgles /
The Game and the Rules (+ audio CD)
Paul Panhuysen
Monograph on the multiple activities of the artist, musician,
performer and organiser, with texts of Louis Ucciani & Yvan Etienne,
Rolf Sachsse, Jaap Bremer, Paul Kuypers, Helga de la Motte,
René van Peer and Rahma Khazam.
Bilingual edition (French/English),
225 x 245 mm (soft cover),
320 pages (color and b/w)
The audio CD 'Small Samples, Many Pieces' is made up of
small samples and a variety of sound art works.
publisher: Les presses du réel, collection OH cet Echo
ISBN 978-2-84066-218-1
price € 30 plus shipping
info/order: www.lespressesdureel.com / helene@paulpanhuysen.nl
------------------------------------------------------
IN PREPARATION:
Music without Musicians
This was the title of a joint project of Het Apollohuis (Eindhoven)
and De IJsbreker (Amsterdam) in 1997. Paul Panhuysen curated
a series of altogether six mechanical orchestras that were installed
at the concert hall of De IJsbreker: Pierre Bastien, Ad van Buuren,
Ulrich Eller, Frederic Le Junter and Trimpin plus an outdoor work of
Harald Kubiczak. The book is a complete documentary with images
and texts, also of guest author Kitty Zijlmans. Aside from this, there
will be an essay on the history of mechanical orchestras by Paul De
Marinis. The book will be accompanied by a CD with sound recordings
of the works presented in Amsterdam. Publication date: fall, 2010.
publisher: Harald Kubiczak
info: www.circuit-art.com